Are Flying Cars Closer Than Ever Thanks To This Deal?
Lotus and Volvo parent company, Zhejiang Geely Holding Group, has recently finalized the acquisition of Terrafugia. If you're already familiar with the name of that transportation startup, you've likely heard of the Transition, a flying car prototype that features retractable wings. The deal may accelerate the development and launch of street-to-sky transport that's available for personal use.
Image Source: Wikimedia 
Ready To Hit The Skies Before 2020
With support from Zhejiang Geely Holding Group, Terrafugia has some ambitious plans for making flying cars a nearing possibility for drivers, albeit, a very adventurous and wealthy minority of them. The Transition, which requires access to a runway for takeoff, is due for a market release as early as 2019. Drivers/pilots will be able to cruise at speeds of 100 mph and travel within a flight range of 400 miles. For a reserve price of $10,000 and a two year wait time, the Transition can now be reserved to own.
Image Source: Terrafugia
From The Driveway To The Sky
Flying car enthusiasts may have something more like the TF-X when they think of going from their driveway to the skies. Without the need for a runway, all electric power, and a range of 500 miles, Terrafugia's TF-X is very much like a flying luxury car and is expected to be more appealing to the average consumer compared to the more plane-like Transition. Release of the TF-X is expected in 2023.
The Future Of Private Luxury Travel? 
By that time, flying cars may not be quite as ubiquitous as some hope, but they are expected to be more of a familiar sight in the skies. Uber is hoping to have its flying taxi program in operation as early as 2020. The competition for private vertical takeoff, street-to-sky vehicles is starting to heat up as well with companies like AeroMobil and Lilium now working on their own private crafts for affluent customers.
[embedyt] https://www.youtube.com/watch?v=wHJTZ7k0BXU[/embedyt]
How will these developments shape the future of luxury and everyday transportation? Comment and tell us what you think of this story.
Article Sources
http://mashable.com
https://www.bloomberg.com
https://arstechnica.com
Circular Economy Principles Equal Good Business For Manufacturers
Manufacturers have long emphasized efficient supply chain management. In a world confronted by resource scarcity, tightening environmental regulations, and consumer resentment about planned obsolescence, sustainable practices now define what efficiency looks like. Inspired by the principles of the circular economy, some manufacturing companies pursue the dual goals of controlling costs and generating public approval.
Sustainable And Regenerative Business Model
In a circular economy, reduction of material waste and pollution is always the primary goal. The circular model strips away the waste of the linear manufacturing model whenever possible. Instead of the old approach of consume a material, produce a product, sell a product, get more materials and start again, a sustainable system accepts back waste materials for use in future production.
Additionally, nontoxic biomaterials take precedence over hazardous materials that produce toxic waste. A circular economy values renewable biomaterials that can be continually regenerated over extractive or toxic material collection processes. Producers and consumers benefit from less pollution and consistent resource supplies.
Textile Dyeing Without Waste Water
Dyeing fabric has always been a water-intensive activity. The textile company DyeCoo has eliminated water pollution issues and expenses. Instead of soaking fabric in dye-laden waters, pressurized carbon dioxide infuses fabric with color. On top of saving water, the new dyeing process produces results twice as fast.
Solving The E-Waste Problem
Circular economy manufacturing tackles head-on the world's enormous e-waste problem. Consumers have been rightly frustrated by computers and mobile devices purposefully designed to prevent repair. Dell Computers has designed its Latitude laptops with removable batteries and standard fasteners. The company has also removed toxic mercury and adhesives to achieve 97% recyclability of the laptop components.
A system that allows manufacturers to reclaim materials from old products has the potential to substantially lower costs. What materials do you wish could be reclaimed from the products that your company currently produces? How would this lower your costs?
ABOUT Dyecoo
DyeCoo's mission is to passionately lead the textile industry to a lean and clean future. DyeCoo's CO₂ technology is the world's first 100% water-free and process chemical-free textile processing solution. Providing geographical freedom from water sources and offering textile manufacturers a head start on legislation that restricts the use of hazardous process chemicals. Its low operating costs allow you to elevate your short-term results and long-term ambitions. Lean and clean.
DyeCoo, based in Weesp, the Netherlands has more than 15 years of experience in CO₂ technology. With extensive knowledge in design and engineering of CO₂ equipment, DyeCoo provides clean textile processing solutions on an industrial scale.
ABOUT Dell
Dell Technologies is committed to transforming businesses, shaping the future of innovation and developing technologies to drive human progress.  Our story began with a belief and a passion: that everybody should have easy access to the best technology anywhere in the world. That was in 1984 in Michael Dell's University of Texas dorm room. Today, Dell Technologies is instrumental in changing the digital landscape the world over.
We are among the world's leading technology companies helping to transform people's lives with extraordinary capabilities. From hybrid cloud solutions to high-performance computing to ambitious social impact and sustainability initiatives, what we do impacts everyone, everywhere.
Article Sources
https://www.manufacturing.net/economics/blog/21271204/the-great-reinvention…
https://cen.acs.org/environment/BASF-says-embracing-circular-economy/99/i5
East Coast Hyperloop Tunnel Construction Gets Approved In Maryland
The stretch between Baltimore and Washington, D.C. is less than fifty miles, but it can become one of the most busy and congested commutes by road or rail. That may soon change as Elon Musk's Boring Company has been granted conditional approval to begin construction on a hyperloop tunnel that may take passengers between the two cities at speeds of 125 mph, and may even extend as far as New York.
Image Source: Wikimedia
Maryland Confirms Plans
The Maryland Department of Transportation and Gov. Larry Hogan's office has recently confirmed their approval that Boring Company can start digging a hyperloop tunnel. Tunneling is expected to begin near Fort Meade, MD although the exact route of the tunnel and its requirements are still pending environmental reviews, scheduling, and funding before final approval.
High Speed, Low Cost
If the East Coast hyperloop begins construction as planned, travelers will be able to cross between major cities at new levels of speed and for a tenth of standard costs, according to Elon Musk. Similar projects are already in the works or are in planning stages in California and in sites currently being considered by Virgin Hyperloop One, which include Cheyenne to Denver to Pueblo, Columbus to Pittsburg, Miami to Orlando, and Dallas to Houston.
Image Source: Construction Dive
From Shipping To Commuting 
Hyperloop transportation systems rely on a pneumatic or vacuum tube concept that allows a sled car to travel along rails at impressive speeds, safely, and without reliance on fossil fuels. In addition to a faster means of commuting and leisure travel across major cities, the system has been proposed as a solution for freight and shipping.
[embedyt] https://www.youtube.com/watch?v=UpVwsk60hxA[/embedyt]
What do you think of the proposed Baltimore to D.C. hyperloop plans? Will this transportation mode be a welcome solution for frustrated travelers? Comment and share your thoughts.
Article Sources
http://www.constructiondive.com
https://nextcity.org
https://www.nextbigfuture.com
What City Will Be Home To Amazon's HQ2?
Amazon is gearing up to build a new headquarters and cities across the United States are vying to serve as the tech giant's new home. With the promise of jobs and local building booms, location proposals and incentive packages are rolling in from coast to coast. With final proposals due later this month, where will Amazon eventually choose to break ground?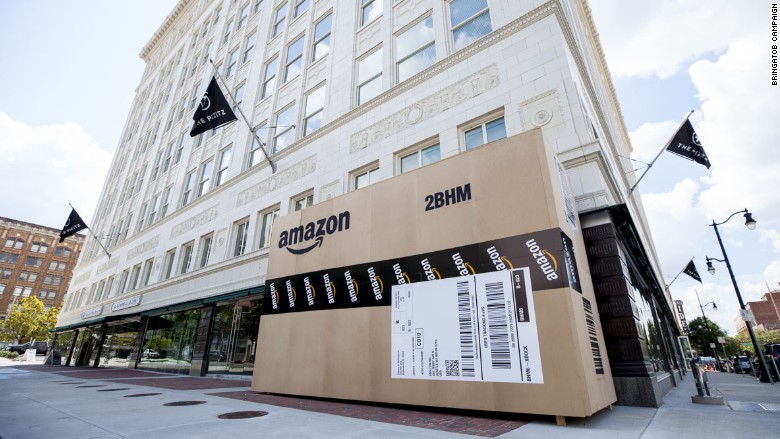 Image Source: CNN Tech
Prospective Choices
Amazon's HQ2 will require a location that can offer a robust and extensive transportation system, pool of qualified future employees, and healthy supply chain, among other advantages. Some of the most prospective choices include Boston, Atlanta, Chicago, Los Angeles, Washington D.C., Philadelphia, Dallas, San Diego, Salt Lake City and New York.
Scoring Favorable Business Factors
A recently released report from Anderson Economic Group (AEG) has evaluated and ranked cities that stand the best chance of serving as the home of Amazon's HQ2. Based on factors that include existing labor and business services, the cost of doing business, ease of transportation, New York City currently scores the highest among prospective locations for HQ2, with Chicago, Los Angles, Boston, and Atlanta following.
Image Source: Wikimedia
Additional Costs To A City?
While NYC has a lot that would make it attractive to Amazon, the high cost of rent, labor, and utilities, among other business expenses, are considerable drawbacks. There's also the problems of congestion, homelessness, housing costs, and economic inequality that could worsen once the tech giant sets up shop. Similar pitfalls have arisen in Seattle where building and tech booms have brought tens of thousands of jobs but other costs to the city's dynamics as well.
[embedyt] https://www.youtube.com/watch?v=QstQvH0pITU[/embedyt]
As the proposals roll in and cities compete for Amazon's final choice, there's no sure way to know where HQ2 will open its doors until Amazon announces its decision late in 2018. Would you be eager to see the tech giant bring its new headquarters to your nearest city? Comment and tell us what you think.
Article Sources
http://www.constructiondive.com
http://www.andersoneconomicgroup.com
http://money.cnn.com