Amazon is gearing up to build a new headquarters and cities across the United States are vying to serve as the tech giant's new home. With the promise of jobs and local building booms, location proposals and incentive packages are rolling in from coast to coast. With final proposals due later this month, where will Amazon eventually choose to break ground?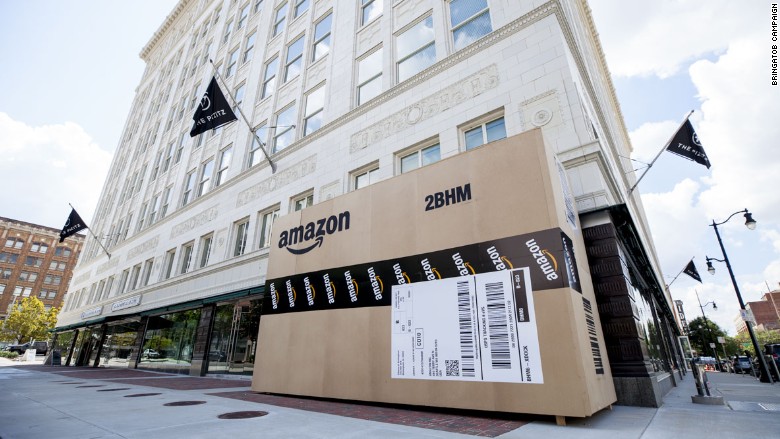 Image Source: CNN Tech
Prospective Choices
Amazon's HQ2 will require a location that can offer a robust and extensive transportation system, pool of qualified future employees, and healthy supply chain, among other advantages. Some of the most prospective choices include Boston, Atlanta, Chicago, Los Angeles, Washington D.C., Philadelphia, Dallas, San Diego, Salt Lake City and New York.
Scoring Favorable Business Factors
A recently released report from Anderson Economic Group (AEG) has evaluated and ranked cities that stand the best chance of serving as the home of Amazon's HQ2. Based on factors that include existing labor and business services, the cost of doing business, ease of transportation, New York City currently scores the highest among prospective locations for HQ2, with Chicago, Los Angles, Boston, and Atlanta following.
Image Source: Wikimedia
Additional Costs To A City?
While NYC has a lot that would make it attractive to Amazon, the high cost of rent, labor, and utilities, among other business expenses, are considerable drawbacks. There's also the problems of congestion, homelessness, housing costs, and economic inequality that could worsen once the tech giant sets up shop. Similar pitfalls have arisen in Seattle where building and tech booms have brought tens of thousands of jobs but other costs to the city's dynamics as well.
As the proposals roll in and cities compete for Amazon's final choice, there's no sure way to know where HQ2 will open its doors until Amazon announces its decision late in 2018. Would you be eager to see the tech giant bring its new headquarters to your nearest city? Comment and tell us what you think.
Article Sources
http://www.constructiondive.com
http://www.andersoneconomicgroup.com
http://money.cnn.com