Concrete and steel have taken architecture to new heights and without fear of fire, rot, or termites. Our cities and towns are so reliant on these materials, they are some of the most common to be found on the face of the planet, but architects are now turning away from concrete and steel in favor of the oldest building material used by humans: wood.
A Growing Global Trend
For many, use of wood would seem like a move backward as far as reliable building materials are concerned. Flammability, warping due to moisture and temperature, deterioration, strength limitations are just a few reasons why concrete and steel have replaced wood as a quintessential construction resource. Architects in Sweden, Finland, the U.K., Austria, New Zealand, Australia, Canada, and here in the U.S. are instead designing multistory buildings that use wood as the primary structural material.
Currently in the planning stages, Framework is a 12-story tower that's due to be built in Portland, WA's Pearl District in 2019 and is expected to be the tallest human-occupied all-wooden structure in the U.S. Other major projects are slated for development in Chicago, Minneapolis, Atlanta and other cities.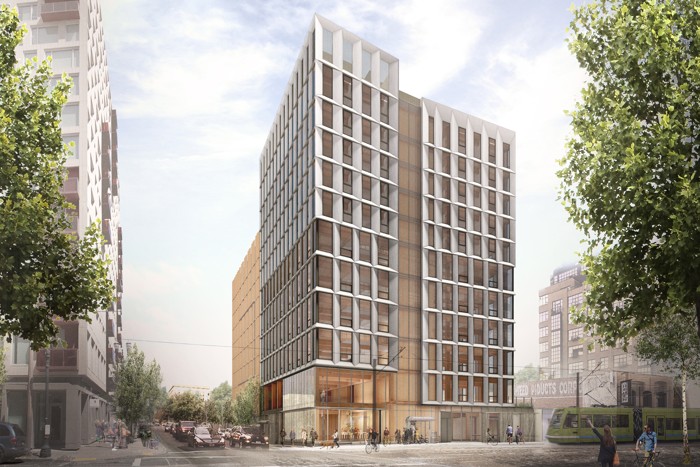 Image Source: The Atlantic
How To Modernize Lumber
The pitfalls of building with conventional lumber are real concerns, but modern material modifications and building techniques have been designed to bypass various obstacles. Lamination treatments, weathertight coatings, and layer techniques are now used to create wood beams and other structural forms that pass rigorous fire, strength, and integrity tests.
An Answer To Faster, Greener Construction?
Use of wood has also been embraced by more architects and builders as it allows for more design freedom, is faster to construct, and is considerably more environmentally friendly than concrete and steel. Complex and sturdy hexagonal structures can be incorporated into a timber building with greater ease than in a concrete one. As there's no concrete to mix, pour, and dry, construction can begin much faster. The roughly 5 to 8 percent of global emissions that come from the use of steel and concrete would also be minimized if trees, which absorb carbon dioxide, were sustained as a more widely used building resource.
With a new level of possibility for wood as a skyscraper-worthy material, some architects are touting it as a building resource for a new century. Do you think that will be the case as more wood-based projects spring up? Tell us what you think in the comments.
Article Sources
http://www.bbc.com
https://www.theatlantic.com
https://www.constructiondive.com