What Can Snowstorms Teach Us About Pedestrian Friendly Cities?
No matter how you get to where you're going in a busy city, nothing slows things down—or brings them to a halt—quite like a blizzard.
This most recent reminder of this for city dwellers in the Northeast was winter storm Jonas, which dropped over two feet of snow on the streets of New York City.
For drivers, it can be a major inconvenience and slow goings. For pedestrians, it can mean slippery sidewalks and a wet, slushy walk, but it could also make the city just a little bit safer.
That's because snow accumulation, and the pileup that results from plows pushing it aside, may give us a look at the design of city streets that are safer to those on foot.
Image Source: Wikimedia
The "Sneckdown" Effect
Snow buildup isn't ideal when you're trying to cross a city street, board a bus, or navigate sidewalks that are crowded on a clear day, but it does manage to extend the curb. Wired refers to this as "sneckdown", a merging of "snow" and "neckdown," in their recent examination of snow and urban design.
The piles of snow that jut out from the curb cause traffic to slow down and tighten their turns into an intersection.
The effect mitigates the likelihood of cars encountering pedestrians as they enter the crosswalk, which according to the National Association of City Transportation Officials most frequently happens at the corners of an intersection.
As the snow piles gradually melt away, the effect goes with it, but some think that curb extensions should be a permanent part of major cities.
Image Source: Reimagining Halfax
Seeking A Year-Round Solution
Pedestrian safety groups have advocated for curb extensions as simple means of making sidewalks and street crossings considerably safer those on foot. However, this simple adjustment amounts to a pretty major shift in city infrastructure.
That means new planning, regulation, and costs. Some have said that a better and easier solution is using temporary means of curb extensions, like removable barriers, planters, and bollards to do a year-round job and serve to reduce pedestrian injury and death.
What are your thoughts on curb extensions and the way snow affects urban design—for better and worse?
Article Sources:
http://www.wired.com
http://nymag.com
http://halifaxbloggers.ca
New Construction Materials Could Solve Plastic Waste Problems
The manufacturing world has embraced plastic due to its versatility and affordability. Plastics, however, are challenging to recycle and the vast majority of plastic bags, bottles, and plastic consumer goods end up packing landfills and polluting landscapes and oceans. This unwanted material has inspired entrepreneurs to rethink the waste as a resource. Their efforts have resulted in lightweight and durable construction materials that incorporate plastic waste.
Coffee Waste Meets Plastic Waste
Coffee drinkers around the world recognize the country of Columbia as a premier grower of the beloved beans. The country, like other coffee-producing regions, must contend with mountains of coffee husks leftover from the bean roasting process. Woodpecker, a Columbian company, combines coffee husk waste with recycled plastic to manufacture interlocking boards for prefabricated houses.
The lightweight boards avoid the challenges of moving heavy materials like bricks or concrete in remote South American areas. The low-cost material enables the company to erect low-cost housing. The smallest units cost only about $4,500 USD.
The Road To Plastic Recycling
Plastic waste has shown great potential as the foundation for new road materials that last longer. Slurries composed of shredded and melted plastic bags, bottles, and food wrappers have been used in place of asphalt on roads in India, Ghana, South Africa, the Philippines, Mexico, and the United States.
Plastic roads resist water penetration and can handle seasonal shifts in temperatures. The founder of the Ocean Recovery Alliance said that plastic road construction could swiftly absorb thousands of tons of plastic waste if used on a large scale.
Bricks Stronger Than Concrete
The owner of a Kenyan brick factory uses polypropylene, high-density polyethylene, and low-density polyethylene plastic waste. The process heats the materials and compresses them into bricks and blocks of various sizes. In addition to being lightweight, she says the product has a durability 5 to 7 times that of concrete.
Due to the amount of plastic waste generated every day, do you think construction materials offer the best way to repurpose it? Comment with your thoughts?
ABOUT Woodpecker
A Colombian company that is dedicated to the production and commercialization of products made with WoodPecker ® WPC material which is composed of vegetable fibers and polymer. Its excellent resistance and durability make it an ideal material for the manufacture of innumerable elements for architectural, home construction, industrial, decorative, etc. To date, several construction projects have been developed with our material.
Woodpecker ® WPC is a project that was born from our initiative and we have the support of the Universidad de los Andes (CIPP-CIPEM) and Colciencias.
This alternative construction system is 100% friendly with the environment, manufactured with ecological material with high standards in quality and earthquake-resistant design.
ABOUT Ocean Recovery Alliance
The mission of Ocean Recovery Alliance is to reduce plastic pollution on land and water by creating strategic solutions for governments, industry and communities which lead to long-term, hands-on engaging business practices. Our mission is achieved through purposefully designed programs to educate, build awareness and provide solutions which inspire positive societal change at the community, national and international levels.
We bring together new ways of thinking, technologies, creativity and collaborations in order to introduce innovative projects and initiatives that will help improve our ocean environment.  This includes creating business opportunities for local communities when applicable, in order to address some of the pressing issues that our ocean faces today.
Article Sources
https://www.fastcompany.com/90604018/now-your-coffee-habit-can-help-build-h…
https://e360.yale.edu/features/how-paving-with-plastic-could-make-a-dent-in…
https://www.reuters.com/article/us-kenya-environment-recycling-idUSKBN2A211…
Smart City Development Pushing Huge Shift In Construction Materials
Multiple nations around the world are making massive investments in smart city mega projects. All of them contain elements meant to reduce pollution or produce power. As a result, researchers expect the demand for advanced green materials to skyrocket. A study by a technology market research company predicted a $400 billion market for the materials needed to construct the highly integrated smart cities of the future.
Global Shift In City Planning Underway
In places as diverse as South Korea, Singapore, New York City, Saudi Arabia, and Mumbai, both smart residential and commercial building projects are breaking ground. Their designs maximize energy efficiency as well as human comfort or industrial function. In a word, the largescale developments will be smart because technology and green materials will optimize all functions.
Consider the example of the 42,000-home residential development in Singapore. The housing complex excludes automobiles from its center. A single central system manages all cooling and an automated system will collect the trash.
Smart Materials For A Green Future
Many cities and national governments around the world have recognized the need to shift energy production to low or zero-emission technologies. Add on top of this, the reality that many urban centers will have to deal with coastal flooding. This is why solar-power-producing materials and water management materials will become of central importance.
The author of a smart materials study concluded that construction companies will need to build walls and windows made of photovoltaic materials. The use of solar materials for roofs, fences, walls, and even pavement will become commonplace.
Materials that can withstand flooding or perform water management functions will also find a market as cities cope with rising sea levels. Demand for new materials that improve sewage treatment and increase the efficiency of the desalination process will emerge. Additionally, complex energy infrastructure projects will need to coordinate wave and tidal power plants with wind and solar installations.
What new materials are you already working with that reflect these green energy and smart design trends?
Article Sources
https://www.osa-opn.org/home/industry/2021/february/vast_potential_seen_for…
https://www.bigrentz.com/blog/construction-trends#smart-cities
https://robbreport.com/shelter/new-construction/singapore-is-building-a-420…
A Return To Wood In Urban Architecture
Concrete and steel have taken architecture to new heights and without fear of fire, rot, or termites. Our cities and towns are so reliant on these materials, they are some of the most common to be found on the face of the planet, but architects are now turning away from concrete and steel in favor of the oldest building material used by humans: wood.
Image Source: BBC Future
A Growing Global Trend
For many, use of wood would seem like a move backward as far as reliable building materials are concerned. Flammability, warping due to moisture and temperature, deterioration, strength limitations are just a few reasons why concrete and steel have replaced wood as a quintessential construction resource. Architects in Sweden, Finland, the U.K., Austria, New Zealand, Australia, Canada, and here in the U.S. are instead designing multistory buildings that use wood as the primary structural material.
Currently in the planning stages, Framework is a 12-story tower that's due to be built in Portland, WA's Pearl District in 2019 and is expected to be the tallest human-occupied all-wooden structure in the U.S. Other major projects are slated for development in Chicago, Minneapolis, Atlanta and other cities.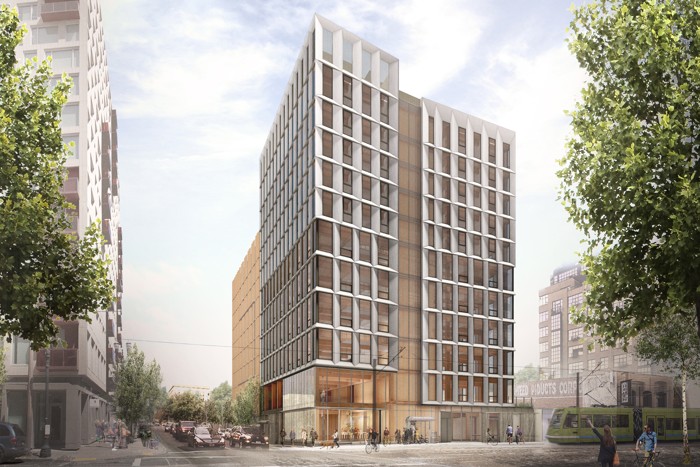 Image Source: The Atlantic
How To Modernize Lumber
The pitfalls of building with conventional lumber are real concerns, but modern material modifications and building techniques have been designed to bypass various obstacles. Lamination treatments, weathertight coatings, and layer techniques are now used to create wood beams and other structural forms that pass rigorous fire, strength, and integrity tests.
An Answer To Faster, Greener Construction?
Use of wood has also been embraced by more architects and builders as it allows for more design freedom, is faster to construct, and is considerably more environmentally friendly than concrete and steel. Complex and sturdy hexagonal structures can be incorporated into a timber building with greater ease than in a concrete one. As there's no concrete to mix, pour, and dry, construction can begin much faster. The roughly 5 to 8 percent of global emissions that come from the use of steel and concrete would also be minimized if trees, which absorb carbon dioxide, were sustained as a more widely used building resource.
[embedyt] https://www.youtube.com/watch?v=ig8-dwE6y6o[/embedyt]
With a new level of possibility for wood as a skyscraper-worthy material, some architects are touting it as a building resource for a new century. Do you think that will be the case as more wood-based projects spring up? Tell us what you think in the comments.
Article Sources
http://www.bbc.com
https://www.theatlantic.com
https://www.constructiondive.com