Can An Exoskeleton Suit Boost Mental Strength?
Exoskeleton suits have been developed to improve strength, ease heavy lifting, and even monitor the health of the wearer. Developers want to take the technology further by using exoskeletons, or exosuits, to also improve mental performance of soldiers in the field—a capability that may already be built-in.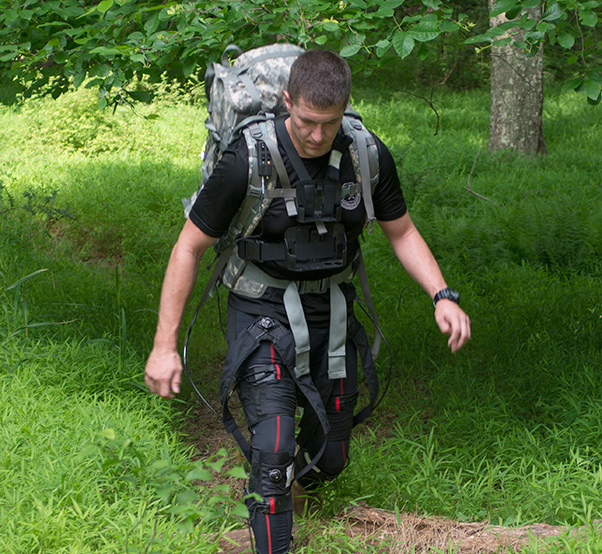 Image Source: AeroTechNews
Reduced Physical Demand For Better Focus 
U.S. Army Research Laboratory scientists and engineers have been working on a variation of an exoskeleton suit as part of the Department of Defense funded Warrior Web program. By improving the suit's system of gears, pulleys, wearability, and overall functionality, the development team is also aiming to improve a soldier's focus and mental processing as a direct result of reduced physical demand.
Image Source: MilitarySpot.com
Improvements Based On Soldier Feedback
After several years of testing at the Soldier Performance and Equipment Advanced Search (SPEAR) facility, researchers have created, tested and modified various prototypes of the exosuit. One of the latest variations to be tested at the Army Research Laboratory has been called a more user friendly edition, which features improved functional attachments, individual control systems, and quieter, more compact actuation systems. The improvements come from feedback gained directly from soldiers and from data gathered through numerous evaluations.
Future Collaborators And Funding Needed
In their testing, which compared performance while wearing the suit and without it, the Army Research Laboratory found that easing physical demands may contribute to better cognition. As researcher Dr. Angela Boynton explains, "If you reduce the physical burden on somebody, there may be some additional benefits including the amount of attention they can pay to their situational awareness." Although the Warrior Web program is coming to an end, researchers are looking for future collaborators and funding sources to continuously improve exosuit prototypes, and finally get closer to a version that soldiers could soon wear for various military operations.
Article Sources
http://www.militaryspot.com
http://www.executivegov.com
http://www.aerotechnews.com
Military Autonomous Vehicles Reduce Personnel Threats But Raise Ethical Questions
Just as developers of autonomous vehicles for civilian roads grapple with programming life-and-death decisions, the defense industry must contend with when and if autonomous equipment should strike a target. Will autonomous military vehicles have an independent ability to make firing decisions or always require human approval for lethal action? With autonomous technologies advancing rapidly, military leaders are now confronted with practical instead of theoretical questions.
West Point Student Smart Machine Exercise
An exercise at West Point had students consider ethical scenarios while testing the other military benefits of autonomous military equipment. Students largely felt uncertain about the amount of authority the machines should be given. The possibilities for independent machine actions have also left military leaders pondering how much control to give up to autonomous machines on a battlefield.
Supportive Military Role
Short of firing weapons based on nonhuman algorithmic decisions, autonomous military vehicles have clear roles to perform in military environments. Rheinmetall, a Canadian defense contractor, has designed a modular unit that soldiers can outfit for different purposes.
Attachments for the autonomous vehicle offer reconnaissance and surveillance functions. The vehicles can also transport personnel in or out of operational areas. They could retrieve wounded people and evacuate them. Other attachments aid in fire fighting or enable detection of radiological, chemical, or biological hazards.
Protecting Personnel From Harm
Autonomous vehicles would reduce risks for military personnel. They could send the machine to perform reconnaissance or sweep for hazardous materials. Machines could enter hostile zones and exchange fire with opponents.
Air, Sea, And Land
Engineers have proposed many uses for autonomous vehicles. Unmanned naval vessels could pursue submarines underwater or fire weapons from offshore to support Marines on a beach. The U.S. Army is currently experimenting with machines that locate enemies and supply tanks with targeting information. The U.S. Air Force has plans for advanced drones that would work in conjunction with fighter planes.
Do you think that military scientists will achieve the next breakthroughs in autonomous vehicles? Comment with your thoughts on where this will lead.
ABOUT West Point
West Point's role in our nation's history dates back to the Revolutionary War, when both sides realized the strategic importance of the commanding plateau on the west bank of the Hudson River. General George Washington considered West Point to be the most important strategic position in America. Washington personally selected Thaddeus Kosciuszko, one of the heroes of Saratoga, to design the fortifications for West Point in 1778, and Washington transferred his headquarters to West Point in 1779.
The U.S. Military Academy at West Point's mission is "to educate, train, and inspire the Corps of Cadets so that each graduate is a commissioned leader of character committed to the values of Duty, Honor, Country and prepared for a career of professional excellence and service to the Nation as an officer in the United States Army."
ABOUT Rheinmetall
Rheinmetall Canada offers innovative solutions for vehicle systems and integration, air defense as well as weapon, command and communications, soldier and robotic systems. Furthermore, the offering includes airport ground support equipment. Rheinmetall Canada also customizes systems to the evolving operational needs of military forces in Canada and on selected international markets and is principally engaged in long-term, in-service support for the broad range of solutions.
In addition to offering its own solutions, Rheinmetall Canada provides the Canadian market with Rheinmetall's broad portfolio of system solutions, services and technologies in the areas of mobility, reconnaissance, management, effectiveness, simulation, and protection.
Article Sources
https://www.defenseone.com/technology/2021/02/army-tests-autonomous-vehicle…
https://www.wsj.com/articles/forget-self-driving-carsthe-pentagon-wants-aut…
https://www.washingtonpost.com/magazine/2021/02/17/pentagon-funds-killer-ro…
https://www.army-technology.com/projects/mission-master-autonomous-unmanned…
U.S. Air Force Embraces Digital Twin Technology
Military weapons designers within the WeaponONE program at the Air Force Research Laboratory can now analyze real-time feedback from in-theater weapons within a digital engineering environment. Known as digital twin technology, it mirrors the activity of a weapon or other machine and analyzes incoming data for the purpose of fine-tuning future operation. This allows researchers to identify problems and test solutions digitally so that they can be adopted rapidly during military operations.
Rapid Weapon Adaptations and Improvements Possible
Powerful computers supported by artificial intelligence look for ways to upgrade hardware performance and precision based on the data supplied by real-world conditions experienced by a system in action. The discoveries revealed by a concurrently running digital twin can translate into immediate or near immediate software adjustments that increase weapon efficacy.
Gray Wolf Demonstration
The WeaponONE program demonstrated this marriage of hardware and machine-learning software on Jan. 21, at Eglin Air Force Base in Florida with the Gray Wolf prototype. Gray Wolf is an experimental cruise missile meant for clustered deployment against enemy air defenses.
Gray Wolf involves a 24-hour Air Tasking Order cycle that enables the missiles to collaborate. During the demonstration, officials saw how WeaponONE gathered in-flight data and cross-referenced it with information about the battlefield. This data went through the Advanced Battle Management System and then entered the digital twin for analysis.
New Era of Digital Weapon Engineering
Military scientists expect the digital twin concept demonstrated by WeaponONE to herald the next generation of military weapons engineering. The process speeds weapon development and results in products capable of rapid adaptations in the face of fluid military operations.
Digital twins certainly have applications beyond military purposes. The insights possible by analyzing a virtual representation of a real-world operation can assist manufacturers in many industries by helping them speed up product assembly and increase factory efficiency. Which military and nonmilitary sectors do you think have the most to gain from digital twinning?
ABOUT AFRL
Our scientists, researchers and professionals re-imagine what's possible, creating tomorrow's technology, TODAY. This pursuit of innovation delivers solutions for our warfighter's urgent needs, creating innovative new capabilities for the Air Force. When others say it's impossible, we find a way!
AFRL leads the discovery, development and delivery of warfighting technologies for our air, space and cyberspace forces. We're pushing the boundaries and creating a new tomorrow through unparalleled research.
Article Sources
https://breakingdefense.com/2021/02/afrls-weaponone-aims-to-rapidly-build-d…
https://www.wpafb.af.mil/News/Article-Display/Article/2478391/weaponone-dem…
https://www.automationworld.com/factory/iiot/article/21259456/how-the-digit…
DARPA Wants To Engineer Plants That Serve As Spies
In combat, unconventional sources of intelligence can provide a major advantage when completing a mission and keeping troops safe. DARPA is now working on a technology that could enable the military to gain tactical insight from a very unexpected source: plants.
Image Source: Wikimedia
Detecting Hazards In The Field
By modifying the genes of certain plants, the Defense Department hopes they can be turned into valuable indicators of battlefield conditions, such as the presence of chemicals, pathogens, radiation, and even buried explosive devices. Such capability would rely on plants' natural responses to environmental changes and various stimuli. DARPA has devoted a new program, Advanced Plant Technologies (APT), to turn plants into reliable battlefield spies.
Image Source: Engadget
Tough And Discrete Enough For The Military 
One challenge for making this a reality is creating strains of plants that provide a reliable and readable response to specific stimuli while also ensuring the plant is hardy enough to survive in nature. While previous attempts have successfully produced plants that behave like sensors, they haven't been as robust as required for this type of defense application. The Department of Defense is now calling for proposals from scientists who can contribute to APT with ideas for cultivating a hardy, healthy plant that appears natural in its environment and can also dependably reveal combat hazards.
[embedyt] https://www.youtube.com/watch?v=q4WsCMLnfvo[/embedyt]
An Open Call For Contributions
Potential contributors to the program will have an opportunity to share their proposals at a special DARPA event to be held on December 12th in Arlington, Virginia. Will the APT program ultimately yield plants that rival advanced intelligence gathering technology?
Tell us what you think about this DARPA pursuit in the comments.
Article Sources
https://www.engadget.com
http://www.newsweek.com
https://gizmodo.com