It may sound like a top-secret weapons project or group of specially trained soldiers, but Defense Innovation Unit X is a little more on the civilian side of military initiates. Just who is getting involved and how will it contribute to our national defenses?
Reaching Out To Innovators
Recently announced by U.S. Secretary of Defense Ashton Carter, Defense Innovation Unit X is a new effort to reach out to innovators and source new technologies.
It's hoped that the effort will better equip the U.S. to deal with threats to cybersecurity and broaden connectivity and technological authority.
Smoothing Over A Rocky Relationship
Defense Innovation Unit X will be based in Silicon Valley, and will be staffed by both active duty and civilian personnel. Their aim is to seek out new technologies as well as startups that could potentially contribute to Department of Defense projects and help overcome new challenges.
However, it will be necessary to smooth over an often-rocky relationship between the tech industry and the military. One of the biggest challenges in getting Defense Innovation Unit X rolling will be in courting private companies an innovators to share their capabilities with military, and believe their doing so for purposes of good.
Defusing Recent And Obvious Tensions
Tensions between the two sectors rose to new heights during the recent NSA surveillance exposure. Going by Aston Carter's Stanford University speech, in which he announced the effort, the Pentagon is well aware of the need for a renewed partnership: "Now, it won't always be easy. We've had tension before, and likely will again.
We shouldn't diminish that. Those who work in the tech community are no strangers to intense grappling with ideas. The same is true for those who work with me at the Pentagon."
The Right Approach To Attracting Talent?
Cater also explained the need for a shift in the department's approach to the tech industry and how it can attract new talent: "We can't have Industrial Age institutions in an age when young people need choice and flexibility.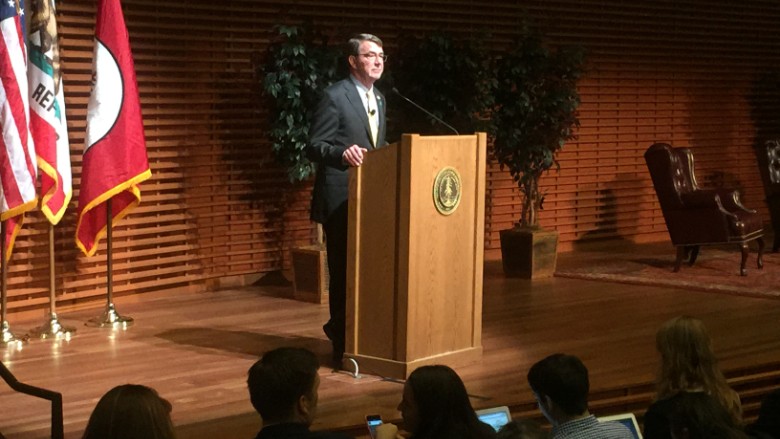 They want movement. They want mobility. That's why I'm so intent on increasing the permeability of the wall between the government and young people and the private sector.
Good Reasons To Get Tech On Your Side
With the Department of Defense and Department of Homeland Security running into bigger challenges and evidence of new cyber enemies, they're going to need a lot of technological innovation on their side.  Do you think Defense Innovation Unit X will deliver and does the tech industry have good reason to respond to the military's invitation?
We invite you to weigh in on this issue in the comments.
Article Sources:
http://sanfrancisco.cbslocal.com
http://techcrunch.com
http://money.cnn.com
http://www.sfchronicle.com