Have you been to a textile and apparel show in New York?
New York plays host twice a year to a slate of trade shows including Premiere Vision, Indigo as well as Texworld USA, DG Expo, and Kingpins.
Premiere Vision, Indigo Show – New York Edition
Every third week in January and the third week in July, textile and apparel executives travel to New York to participate and attend Premiere Vision, Indigo, and a lot of them are out to source and shop for fabrics. Hence, if you miss the year-starter show, another one is slated for July 2015.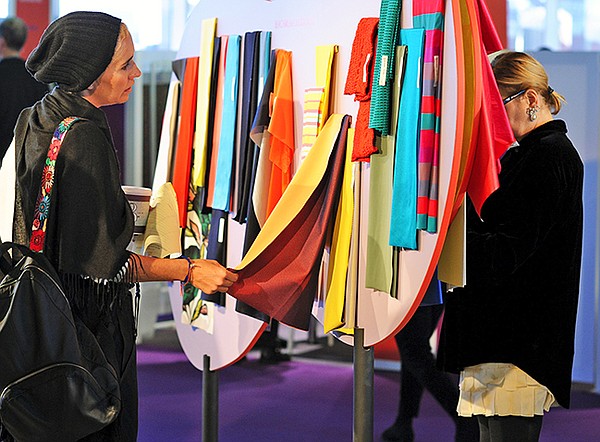 Back To Pier 92
This year, on January 13 – 14, Premiere Vision New York and Indigo New York made a comeback to Pier 92, on Manhattan's western end where almost 300 vendors from 24 countries came to New York to exhibit their collections for Spring/Summer 2016 in the categories of:
Fashion fabrics
Textile
Surface design
More Attendance Than In 2014
This year, a strong showing of Turkish firms spelled the difference from previous shows. Compared to January 2014, the number of exhibitors is up 14% and the increase is attributed to the bigger show venue compared to last year's smaller Metropolitan Pavilion and Altman Building in Chelsea. Around 4,000 buyers were in attendance for the two-day textile and apparel show with West Coast brands Patagonia, Athleta, Pacific Sunwear, Nasty Gal, Juicy Couture, Trina Turk, and Vince fully represented.
Strong Fashion Industry
According to Premiere Vision's international exhibitions director, Guglielmo Olearo, based on the general mood on the first day, it was evident that the fashion industry is showing strength and the people are positive and showing a lot of interest in the US market as against European market. Olearo said that the statistics in retail are indicative of a positive and good economy – signs that the crisis is behind and the US textile market is booming.
Despite an early-morning fire at Penn Station that prevented thousands of commuters from getting into the city for the morning ceremonies of the show, most exhibitors felt that the somewhat slow start in the morning was compensated by the arrival of attendees by mid-afternoon.
A Mix Of Familiar And New Faces
The first exhibit day, January 13, was deemed as generally a good day, according to the executive vice president Solstiss' New York office, Sandrine Bernard. Solstiss is a French lace mill with an office in New York. Bernard said she saw a good collection of clients and a high-quality audience – a mix of familiar and new faces. She pointed out that the show's early crowd draws are products that showcased new nettings and embellishment techniques.
Seminars And Discussions
A seminar on Spring/Summer 16 Color Highlights was held on the first day that focuses on the evolution of color moods, focusing on exclusive color combinations based on markets and key products. There was also a discussion focusing on the latest technology including radiofrequency drying systems and its role for the fashion world in the future with panelists composed of key players and leaders in fashion representing different roles in the fashion supply chain discussing their involvement and experience in this specific area to give the audience a full picture.
New Trends And Favorites
According to Elizabeth J. Darin representing the New York office of Takihou Co. Ltd. which exhibited for the first time at Premiere Vision, designers were attracted to textiles with body and texture such as the quilted knits and triple-layer knit in crimson, navy, gray, and white/black. However, Darin said that American customers find these a little intense although designers showed great interest. Darin observes that American customers will be introduced to these designs slowly.
Something Different And Exclusive
Designers present at the event also showed responsiveness to textured, linen-look with a subtle ethnic feel in neutrals instead of the brighter colors that were popular in Spring/Summer 15. This was the observation made by a sales manager of Philea, a French textile mill, Hugo Soudee. He said it was obvious that people want something different.
The Weak Euro
Also discussed in the seminars is the weak Euro which has depreciated more than 5% in the last three months. It was the currency's weakest footing in nine years. For some exhibitors, the weak Euro basically equates to a 20% discount in their purchases.
Quality Vs Price Tag
Another observation made by Seterie Argenti's Michele Vergano is that the European and Italian fabrics got the interest of the buying public in general. And while people are careful about their spending, the need to have something special and exclusive – which can't be made in Asia, is a good reason to look at the price and make a decision based on that.
For those who missed the show, the next one's slated in July. You wouldn't miss that, would you?
Article Sources:
http://www.apparelnews.net
http://www.apparelnews.net